Greenfest-Exterior-28-01-1
Heaven-XL-Exterior-24-01-1
Tiny Homes for Sale in

Huntsville
We build beautiful Tiny Houses on wheels in Huntsville and all over the US. This tiny house for sale offers a lot of space and style in a tiny package.
Our Tiny house features an open floor plan and high-end finishes. This charming Texas tiny home is 30' long with a spacious living area. The house features two lofts, granite countertops, and white tiled walls. It includes a full-size couch, dining table that seats up to five, plenty of storage space, shower, and toilet.
Our tiny house for sale is perfect for anyone looking to downsize and live green. What doesn't fit in a tiny house, you're welcome to leave at home.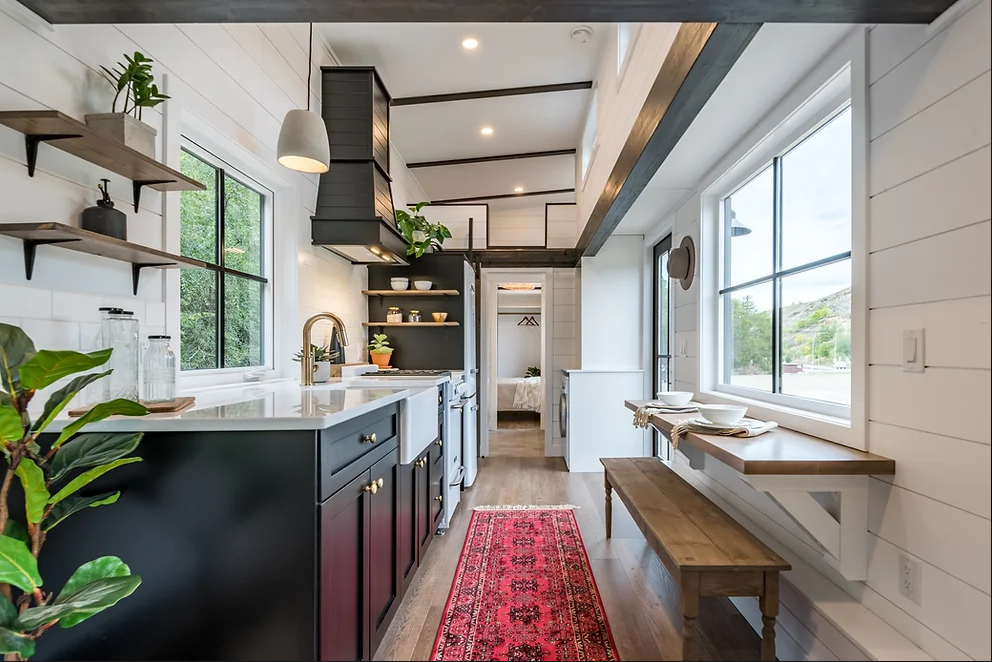 Tiny Home Builders Texas offers over 6 models of modern farmhouse-style tiny homes on wheels. Our tiny home on Wheels typically have unique design elements like Lofts, fireplaces, and apartment-sized appliances.

ROOMETTE
The ROOMETTE is a winsome trailer that radiates tranquillity and offers a peaceful that also looks very beautiful home to its residents.

GREENFEST
This classically inspired farmhouse styled tiny home packs a big punch into a small space with large black windows and a modern interior design.

HEAVEN
A stunning rustic, yet refined tiny house on wheels with two spacious lofts, a modern kitchen, and a large bathroom suite.

SUMMER JOY
The SUMMER JOY is a Modern tiny house that tends to take your breath away with its fine design, beautiful appearance and a modish theme.

SEASHORE
An affordable tiny house with the basic necessities and a lot of windows throughout. Full kitchen and a full bath make it ideal for all lifestyles.

MAGNOLIA
The MAGNOLIA is a dreamy tiny home, with a private living room, a main floor bedroom with space to walk around the bed, and a functional kitchen with all of the extras.